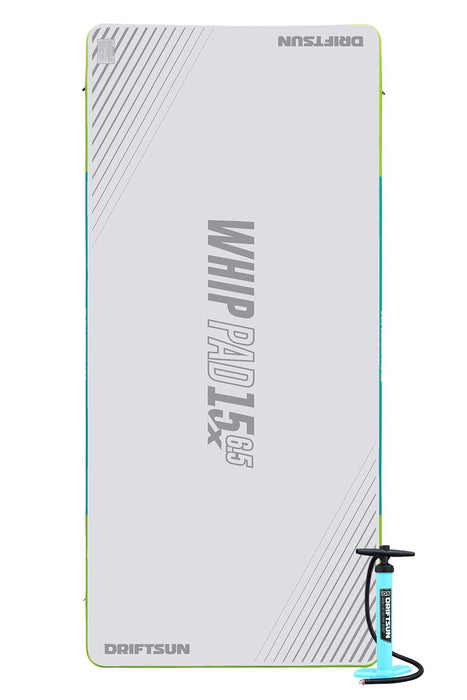 Whip Pad Inflatable Floating Platform
COMPLETE PACKAGE INCLUDES
Inflatable Whip Pad
High Pressure Pump
1 Convenient Packing Strap
Work, play, lounge or relax
The Driftsun Whip Pad was designed for it all! This versatile inflatable floating pad is extremely durable and rigid. Yet, packs down into a very manageable size that can easily be stored in the garage or rear boat locker. Anchor D-Rings allow you to secure it to the side of your patio boat or the end your dock for extra lounge space . -Not recommended to be used while the boat is running.
specs & dimensions
| | |
| --- | --- |
| 12' SIZE | 12 ft x 6.5 ft x 4 in |
| 15' SIZE | 15 ft x 6.5 ft x 4 in |
| 12' WEIGHT | 64 LBS |
| 15' WEIGHT | 77 LBS |
| 12' max capacity | 700 LBS |
| 15' max capacity | 900 LBS |
| Max Pressure | 15 psi (1bar) |
| MATERIAL | Rigid Air Dropstitch PVC |
MULTI-RIDER
Up to five total riders
RIGID AIR TECH
Dropstitch PVC construction
UP TO 900 LBS
Rider and gear total
64-77 LBS
Lightweight construction
HI-PRESSURE PUMP
With pressure guages
ALL AROUND FUN
Fun for everyone
Hangin' Out, Havin' Fun
This pad is a must for water enthusiasts of all kinds! Use it as a platform to clean and work on your boat on the water. Practice yoga on the lake or lay out and catch a tan. Bring out the lounge chairs, coolers and watch the sunset from the water. Kids love to jump and play on this whip pad. With so many uses the Driftsun Whip Pad is sure to be used all summer long. Constructed from military-grade PVC using MLS drop stitch technology. Never worry about the fun ending from dings, damage or punctures with this extremely durable inflatable swim platform.