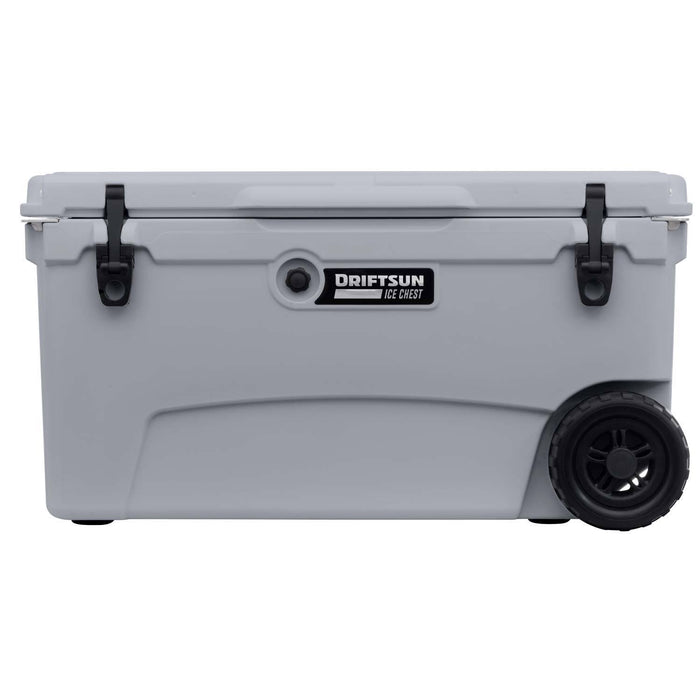 Driftsun 70 Quart Performance Rolling Ice Chest- Insulated Rotomolded Cooler
Seriously Tough. Seriously Portable The Driftsun 70 Quart Ice Chest is built to withstand the unbearable heat of summer. Our team of engineers have designed the ultimate cooler that will retain ice for days on end.
All the benefits of a Driftsun Ice Chest in one easier to transport, rolling package - that's what you will get with the Driftsun 70 Quart Wheeled Ice Chest. Driftsun Ice Chests are known for their 3 inches of commercial grade insulation that retains ice for days. Now, the non-slip, tough Driftsun cooler comes in another highly useful feature - built-in wheels for easy transportation. No need to worry about lifting or lugging around a heavy ice chest when you can simply wheel it wherever you go.
The DriftSun 70 Quart Ice Chest is top rated for a reason. Boasting a phenomenal amount of interior room, superior insulation, no-leak drain plugs, and construction sturdy enough to withstand a raging Yeti, there is no other cooler like it on the market.
Features:
Wheeled Rolling Package
Rotomolded Thermoplastic Construction 
3 inches of Commercial Grade Insulation 
No-Sweat Exterior 
ThermalLock Freezer Style Gasket 
GorillaGrip Non-Slip Feet 
Heavy Duty ColdSeal Latches 
Molded Tie-Down Slots with Lock Plates 
Recessed Dual Cap Drain Plug 
Pressure Release Valve 
Dry Ice Compatible 
Built-In Bottle Openers 
The Driftsun 70 Quart Ice Chest is top rated for a reason. Boasting a phenomenal amount of interior room, superior insulation, and construction sturdy enough to withstand a raging Yeti, there is no other cooler like it on the market. The molded tie-down slots and non-slip feet mean this cooler is ready for an on-board adventure without going for an unexpected dive. Plus, the UV-resistant material is going to keep it looking snazzy for decades to come. Whether going to a beach party, on a weekend hunting trip, or catching the next big one, the Driftsun 70 Quart Ice Chest is the companion you want to tag along.

Specifications:
Outside Dimensions: 33.5"(L) x 18.5"(W) x 18"(H)
Inside Dimensions: 27"(L) x 12"(W) x 13"(H)
Cooler Weight: 34 Lbs.
Ice Retention: 7-10 Days