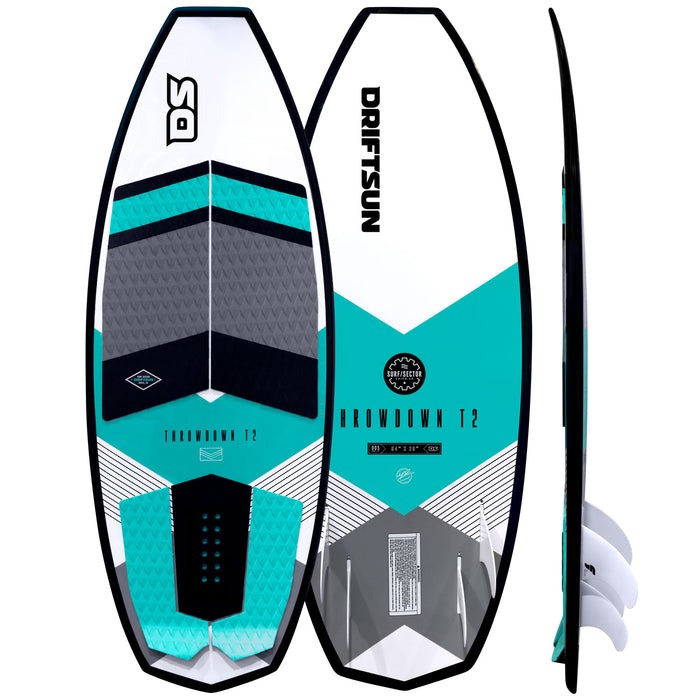 Driftsun Throwdown T2 Wakesurf Board - Multiple Sizes
This board was designed and created by Wakesurfers for anyone ready to get their feet wet. We wanted a board that was easy to get up on for beginners. We call it "From Boat, to Rope, to Wake". The Throwdown Wakesurf board can rip on the water and is dynamic enough to perform jumps, spins and tricks. Entry level rides will quickly gain the confidence to pop up and throw in the rope.
While more intermediate to advanced riders can expand their level of skill and range of ability. This board is truly built to grow with the rider. We added Futures Fins and fin boxes to allow the rider to customize the board as the see fit. The included fin key allows for easy removal of the fins. This way you can store your Driftsun Throwdown Board in your board rack or remove the fins to safely store with other water sports gear such as a Driftsun inflatable paddleboard or other towables.
Multiple AWARD WINNING Wakesurf Board
Voted #1 Best Beginner Wakesurf Board by

 

Surf Hungry

Editor's Choice for Best Wakesurf Board for Beginners by

 

Humber Sport

Voted Best Wakesurf Board of 2020 by Kite

 

Surfer Area